VoiceWorx creates a newsletter periodically to keep our friends, supporters and followers up-to-date with the activities and events of the choir. It is delivered via our
friends
email mailing list.
Anyone can subscribe to this mailing list to receive our newsletters as they are released.
To subscribe (or unsubscribe), enter your email address in the box to the right...
Below is a list of all past issues...
---
Thu, 30 Apr 2020
Printable version

Newsletter 30/4/2020
Action Group Update

Present 29/4/20
Alan Boxer, Barbara Wood, Maria Thorne, Sue Wilson, Heather Lamport, Fiona Shere, Nikki France, Neil Rushton, Caitlin Pilcher.
Apols: Gavin Scott.

The Main points of note were:

A big thank you: to everyone for all the work involved in setting up VoiceWorxLIVE up and getting it to where it is. Especially Alan in spending hours on the technology for it all.
Finances so far: Good numbers so far. About 40. More attendees would be good, but we will review costs regularly and adjust accordingly to income. Treasurer thanked for managing various fee options. Please refer new interested parties to Home page of website and click on "Payment Information is here."
VoiceWorx LIVE content. We've received lots of positive feedback. General discussion took place around songs, content and format resulted in agreement that Alan and Maria are doing a great job, and they would adjust the content of the session as time goes on, but would welcome direct feedback. Sue may get more involved occasionally - joining us a bit to support the sopranos and to keep in touch with us all.

When will we see you again? Events? Return to Village Hall? End of Lock Down? AGM?! General discussion resolved to review regularly, and aim for a safe return as and when we can. Meantime, enjoy VoiceWorx LIVE, Recording songs, coming to ChatWorx, and keep it all going as long as we can, and hope for some sort of event/concert some time, somewhere, some place! We will let you know as soon as we know!

Next Action Group in a month or so, depending on world events!
Table of Contents
---
Thu, 9 Apr 2020
Printable version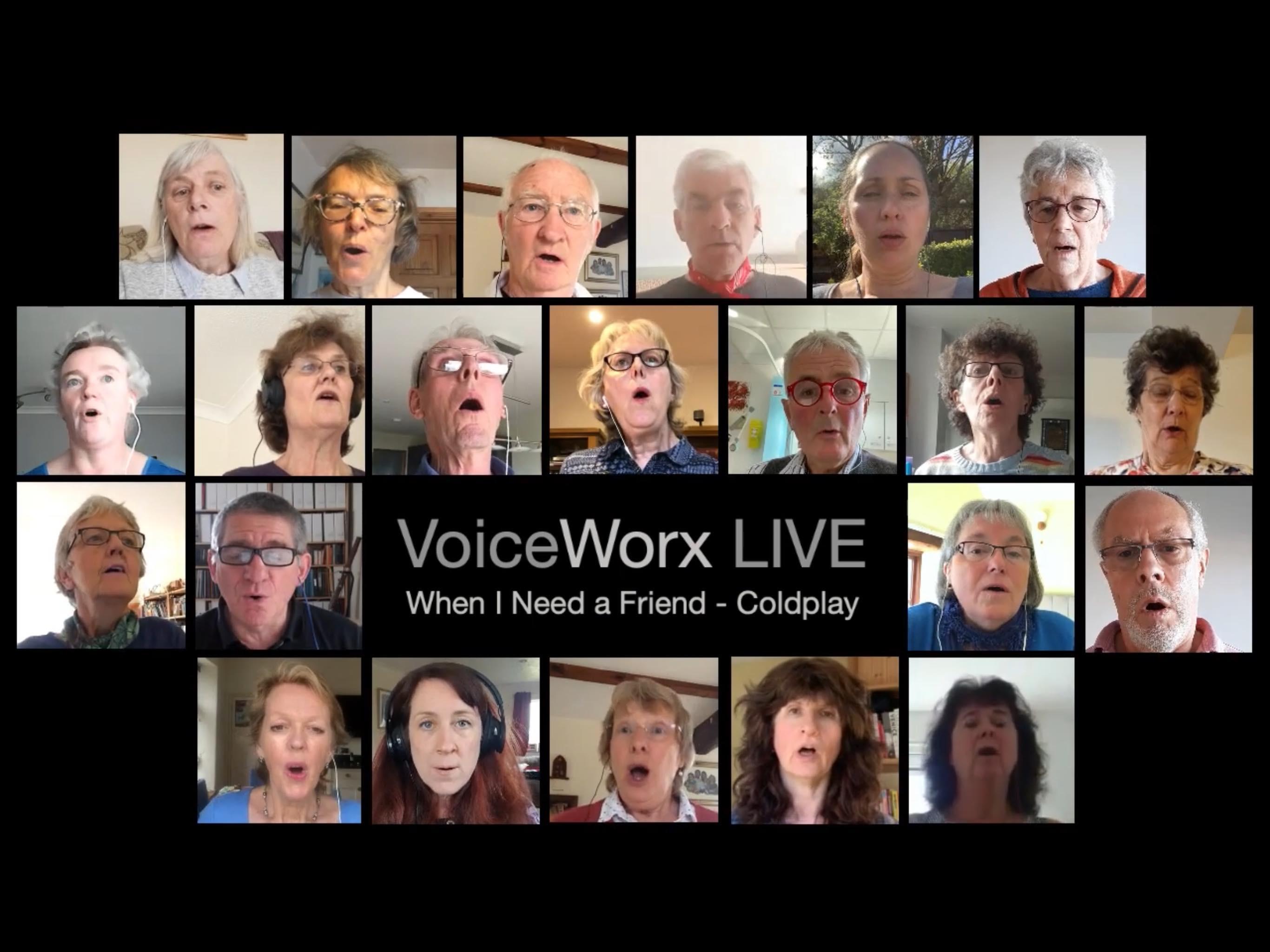 Devon's Voiceworx Community Choir sings "When I need a friend"

When we need a friend....
Sometimes it can be tricky to find the right things to say, or the best words to write when someone loses a loved one. DEVON choir VoiceWorx have posted a moving recording of the Coldplay song, "When I need a friend" and hope that for many it will offer a way of saying all they need to say, when they need a friend.
Link is here:
https://youtu.be/vKbCUodPAcI
The Covid-19 situation has thrown many into unusual territory, not least those who must say goodbye to their loved ones from a distance. Alan Boxer, VoiceWorx Music Director has set-up their choir on-line and surprised themselves when they realised that their recording of "When I need a friend" could offer comfort for many in their time of need, aswell as for both funerals and memorial services.
The beautiful lyrics and harmonies can be interpreted as a moving acknowledgement of the love and support that people around the world need in their hour of need.
---